Good Evening,
A good percentage of the builders have stated that they are going to build their Goblin with the stock N/A or the runout SS/TC engine from their donors. Then build their dream engine to install at a later date. (So I initially did rebuild the 2.2L Ecotec/transmission for "BLUE" but it retained the stock internals - reason that I am only running it up to approx. 230HP more then enough for the Goblin without really stressing the engine either....).
So in comes a deal that I could not refuse... a brand new Ecotec 2.4L VVT (2012) for sale without the rods,pistons and valves. So here I am going to try and do my first Turbocharged Ecotec engine build... (seeing that I'm not going to be the last of us doing this I'll try to use this post as a DOs and DON'Ts for a N/A engine converted to a turbocharged high HP engine). This is my first attempt so I really could use sound advice and knowledge from other builder with more experience in turbo builds.
So let me begin with what I have and then we can go from there.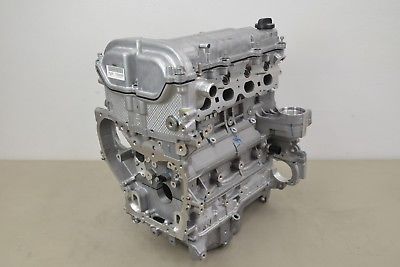 New 2.4L VVT Ecotec....
Parts to replace powdered components or missing components...
1) Forged and coated pistons for LE5 (2.4L / 88mm / 10.4:1 compression)
NOTE: using stock 10.4:1 compression I am planning to run on E85 fuel - if I was running pump gas a lower compression ratio would be preferred.
2) Molnar 2.4L connecting rods ( cheapest of the forged rods but plenty strong enough for what I'm trying to build ).
3) Siemens 80# injectors (EV6) for E85 fuel
4) Ecotec Inconel oversized valves ( exhaust and intake ).
5) Neutral balance shaft delete bushings.
6) LE5 performance cams.
7) 82# Ecotec valve springs and titanium retainer.
8) Cobalt SS intake manifold ( aluminum ) it is the one with the throttle body on the bottom side of the manifold - don't know if it will work or not???
9) Ecotec LHU/LNF throttle body
10) ARP Ecotec stud kit
11) New BorgWarner / GM turbocharger ( 2.0 Ecotec LNF) new takeoff....
So that is what I have along... with a lot of additional questions.
So what I would like to do is to try and keep this thread pretty clean ( there is so much good information on the forum but it gets lost ).
I'll let this sink in to get your thoughts flowing... I'll start posting some of my questions later... I can also start an open conversation (that anyone can join into) if you like or dislike something without cluttering the thread.
Would be nice to have a one stop thread for N/A to Turbocharged engine build for current and future builders...
THX,
Bruce