So the journey begins


It doesn't matter type of project, I'm not one that can be without a project regardless of the type.

I have built a Motorcycle from a kit, 120 Gallon Saltwater Reef Tank, 30'x10' Chicken Coop, and most recently just finished a 68 Camaro LS3 Engine Swap. With all that being said it was no surprise to my wife when she would catch me on the internet researching my next project.

When I would watch F5Cobra builds they would always get to the point that they would refer to as their first go-cart drive, I often thought it was a shame that they could not just stop there instead of investing another 20K on top of the 30K they already had in it to finish it?

Needless to say I was very excited to come across the DF-Goblin, exactly what I was looking for. An adult size, street legal, rocket of a go-cart.

I immediately started searching for a donor and although I might have preferred a SS, everything I found had in excess of 150K miles and was a thousand+ miles away. That's when I found a base coupe a few hours away north that only had 10,491 miles on it. I thought perfect, it is barley broken it. I raced up to look at it, struck a killer deal and rented a U-Haul to get her home.

I thought it would be months until I had the cash for the kit so I decided to put the donor on the road and drive it for a while, have already put 500+ miles on it, and it runs and drives like a brand new car. Part of me is sad that I will be tearing it apart, but only a very very small part.

Here is the donor purchased on January 9th 2021
I have a two-car garage with a 68 Camaro and a Harley sitting in it. To free up some space and to get the funds to purchase the kit I decided to sell the Harley. I have been riding motorcycle's for the last 40 years but this last year only took her out a few times, so I said to myself what's the point in having it just sit there. Two issues solved, space in garage and cash to ordered my kit on January 26th 2021.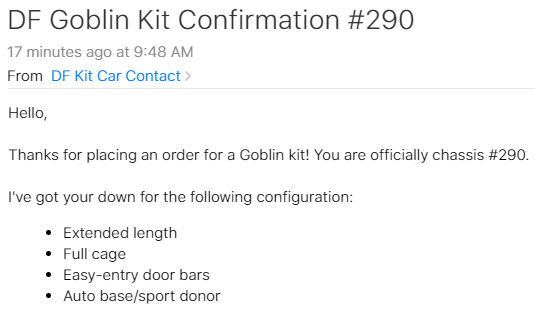 3/30/2021 update: changed frame to include Double Door Bars
And I can not
neglect
to thank my loving wife for putting up with me and my hobbies, she's the best!
.
Last edited: