Not you're typical Goblin build for sale. Located in St Peters MO.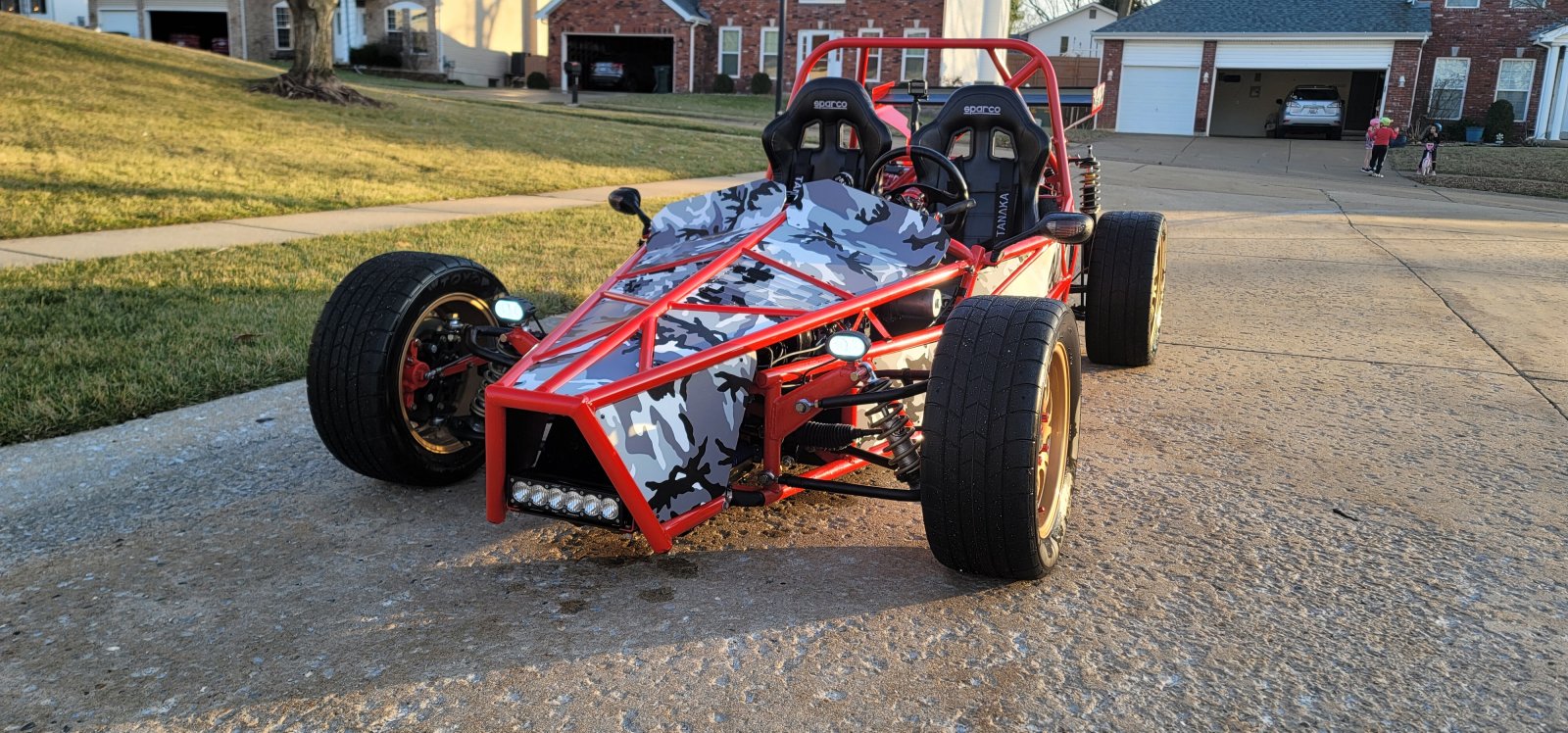 $25k
The good.
Extremely unique goblin. Custom hood, body panels, rear wing, seat slider brackets, front light bar mount, tail light mounts, line lock rear parking brake, Baja designs light bar, Rigid industries chase tail lights. Had cluster reset to zero, 4907 miles on the build, 98k on engine and transmission. Saturn Vue EPS with potentiometer to adjust steering power assistance. Toyo RA1's with less than 700 miles on them. These tires made a huge difference in how the car handled and provides feedback while corning hard. 2 sets of spare body work, not wrapped. Fiberglass engine cover is included but was never used so its bare. Missouri registered and titled. I'm sure I'm missing more.
EDIT: Remembered the engine mods, dual pass end plate, 2.8 pulley installed, 2.9 pulley comes with it. 60lb injectors, phenolic spacer between intake and head. Lightweight ZZP race battery (weights 11lbs). Sparco R100 Sky seats on sliders for adjustability.
2nd Edit: I also have a brand new still in the crate zero mile F35 LSD transmission, I'll throw in for the 25k price.
3rd Edit: I installed the GM performance clutch and throw out bearing during the build and also the ZZP aluminum lightweight flywheel.
The bad. Broke the wire for the coolant level sensor, wire disappeared into the harness and have no idea where it is, gives a low coolant level warning on dash when you start the car. Bubble formed on the rear wing wrap, can be seen in the photos. If buyer wants I can have the wing powder coated. Scratches along the drivers side upper bar from getting in and out and the 4pt harness hitting it repeatedly. General scratches from driving etc. Waiting on the DF shifter upgrade to show up. Current shifter works its just hard to find 5th gear. Could use a professional tune, runs fine and strong but occasionally hunts for idle (850-1100 rpm).
Check the drive link for detailed photos, car was just washed prior to pictures so that's water you're seeing under it.
Last edited: