I was thinking about audio options for the Goblin this morning and thought it might be nice to have a focal point on the forum (this thread) where we can lay out our audio options and discuss pros/cons, and maybe give each other some ideas.
Through my late teens and 20's, I was pretty into car audio solutions. I did installs for myself, friends, and clients, ranging from very simple, to more custom and complex setups. I was personally never interested in winning an SPL competition, though I did a few big installs like that for friends and clients. With that said, a few things:
I won't be looking at big subwoofer setups for my Goblin. I'm a standard frame, so barely any room behind the seats. With this being an open-air car, it would be tough to make it work as well as a more traditional, closed-cabin vehicle.
I've come to trust a certain subset of brands that deliver what is, to me, quality sound. For that reason, I won't be recommending any Boss Audio, Pyle, etc. setups here.
Some of us can fab metal, but I suspect more of us cannot. While I would love to go with a full-on DIN head-unit, I can't/won't be designing a custom dash and therefore will be looking at options that will work without that.
Option #1
MTX Audio MUDSYS31, 41, or 46
Links:
MTX MUDSYS31
MTX MUDSYS41
MTX MUDSYS46
This series of "sound bars" is more like a fully-featured head unit/amp/speaker solution for ATV's. It is Bluetooth-ready, has AM/FM radio, and AUX IN. The only functional difference between these three systems is the width of the roll bars/cage supported by each one. This setup would be great for a track frame; since I do not have a track frame, I don't know the width of the halo and thus, cannot say which one of the above models would be appropriate. Having a city frame myself, and I'd love to adapt one of these systems to mount behind the seats on the overhead roll bar, but I don't think it's possible without fabricating a new mounting system.
This would be my first choice, because it has four total 6.5" two-way speakers and would probably produce the best sound of this bunch. Anyone have any thoughts on a way to get this unit mounted to the roll bar? I'd love a 3D-printable STL file!
Pros:
Potentially the best sound of the bunch
One-piece system, easiest setup
Cons:
Won't fit city frames properly without custom mounts
Within plain view (so easy to identify and steal)
Option #2
MTX Audio MUD6SPBT
Link:
MTX MUD6SPBT
This is a smaller version of option #1, and less feature-rich. The amp is weaker, and the speakers are smaller, but the mounting system looks perfect for us city frame folks. It retains the Bluetooth connectivity option #1 has, so it's still fine for those of us that have no plans to install a custom dash or aftermarket head unit. This is my second choice, because I don't think this bar will be able to provide the level of sound quality that option #1 can, but should be a breeze to install without any custom mounting.
Pros:
One-piece system, easiest setup
Appears to be a perfect fit for city frames
Cons:
Less features (no AM/FM radio, dome light, etc)
Potentially less sound quality/output, compared to option 1
Within plain view (so easy to identify and steal)
Option #3
Kenwood KAC-M1824BT 4-channel amp and Kicker 40PSM34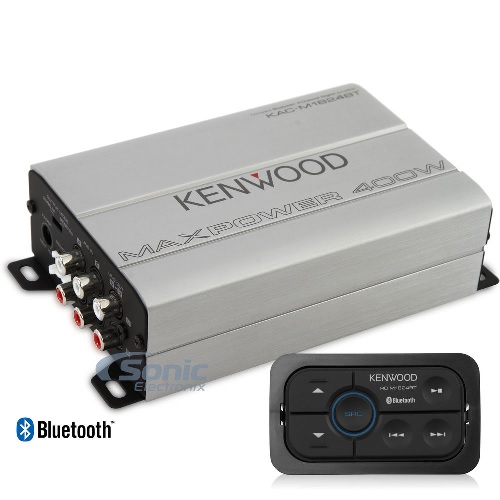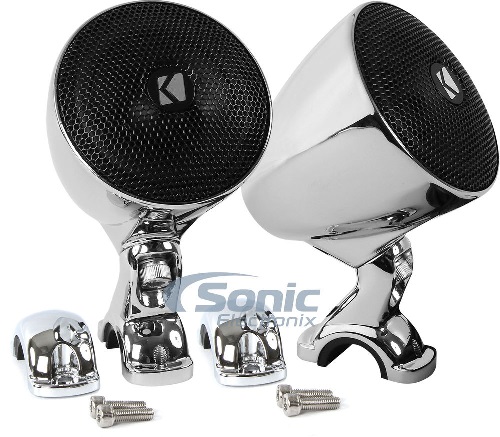 Links:
Kenwood KAC-M1824BT
Kicker 40PSM34
I liked this option a lot originally, because it would be well-hidden and less obvious of a target for theft. Since the amp is 4-channel, you can add a second set of Kicker speakers later if you desire, perhaps clamped to the roll bar.
Pros:
Will work equally fine in a city or track frame
Easily expanded with a second set of speakers, later
Not easily spotted, so less potential for theft
Cons:
Less features than any of the above options
More difficult/complicated to install, since it is multiple pieces
Potentially less sound quality/output than option #1, though should be better/equal to option #2
Bonus Option
Bazooka BTA6250D 6" bass tube (or BT6014 if you go with an option like #3)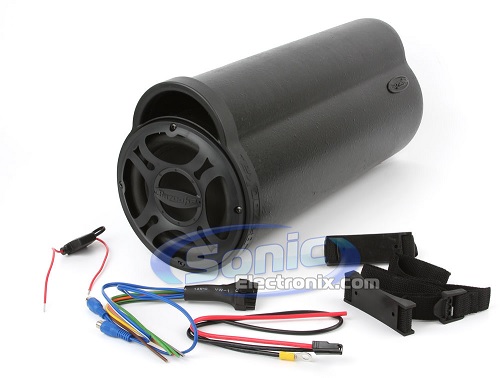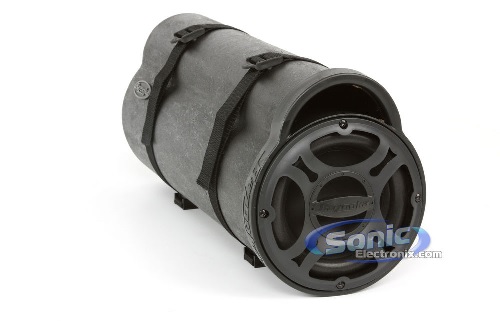 Link:
Bazooka BTA6250D
Bazooka BT6014
I like the idea of adding an external subwoofer to these cars, but for guys without the extended frame, it would be difficult. I have yet to check into whether this would work in terms of dimensions of the tubes vs. the available space above the fuel tank, but I do think it would fit.

The first link (the BTA6250D) is a self-amplified version while the second link (the BT6014) is non-amplified and would need external power amplification. You would want to use the BTA6250D with a sound-bar-style system like options #1 and #2, while you would want to use the BT6014 with a separate amp/speaker system like option #3.
Pros:
Would add some level of bass to any of the above options
While still visible to the outside world, it is still somewhat hidden and theft of this tube would be a pain in the butt and probably not worth the risk to interested parties
Cons:
Durability concerns: would the tube hold up to the engine heat?
Fitment concerns: does it actually fit above the fuel tank? How would you mount it?
Sound quality concerns: open-air car ... would it actually sound decent?
Anyone with audio aspirations for your Goblin, please consider adding your thoughts!
Last edited: