Maybe slightly off-topic, but I've been looking for how people have set up the Option B configuration. I'm not sure how to get the small air purge tube properly routed, and I'm not sure where to put the tank itself.

I've only recently put my order in, and it will be some time before I get the stage 1 frame and parts. So in the meantime I am doing a lot of planning and research, and dusting off old ideas from when I used to drive this car. I wasn't sure if people run the small air purge tube all the way from the intercooler (especially if it is in the front where I think mine will be), or I was thinking I could run the air purge tube from a T fitting just before the flow enters the laminova endplate. Assuming I keep the configuration in the car where I have the pump fitted on the hot side where the coolant exits the manifold. But I definitely want to work out how best to fit the air purge tube and the coolant tank itself.

Thanks!
This is what I had ended up doing for the Option B tank, which I copied from the Ariel Atom. I wanted to keep the area open around the dipstick.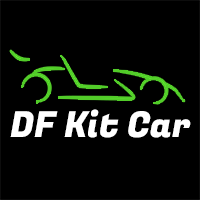 Finished the Option B mount. Connected it up and tested. No leaks and purging out any air nicely.

dfkitcar.com